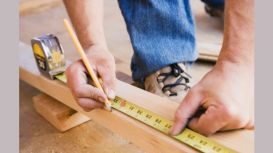 A complete joinery service covering Newcastle, Jesmond, Gosforth, Heaton, North Tyneside, Morpeth and Northumberland. We specialise in all domestic work and are happy to carry out commercial work for small businesses such as offices and shops. Our business can be summed up in two words - affordable quality.
A newcastle based business who employ local craftsmen, local subcontractors and use local suppliers wherever possible. By allowing Elite Joinery to be at your service you are keeping it here - in the North East and supporting your local economy.
---
Reviews and Ratings
Mike and the team built a new porch to replace my existing rotten one. It was in exactly the same style to fit in with other original ltimber porches in the street, quality was excellent, on time and on budget. Will definately use again.
Installation of the new structural lintel was completed to a very high standard. Mike was very professional and helpful. He started work straight away which enabled us to move into our new home. We would not hesitate to hire Mike again.