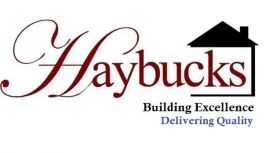 About the Business
Here at Haybucks Carpentry Contractors, we aspire to maintain an excellent reputation for managing and delivering superior construction & labour of the highest quality within budget & programme.
We are based in the West Midlands and using only first-class carpentry subcontractors & our own directly employed craftsmen we aim to produce the level of quality & service your project demands.
The resources of our company stand at around 40 fully trained carpenters & joiners, all of which hold the relevant CSCS cards, both directors of Haybucks are SMSTS certificated and we also have Site Safety Supervisors within our employment.
We are fully aware of the Health & Safety requirements needed to run a successful site, and stress this as a major part of the service we can offer to you, also we conduct stringent quality of works inspections before any stage is said to be complete so when checked by NHBC there are no reportable items.
We are primarily a carpentry contracting company with projects ranging from total carpentry packages for new housing developments to more specific works for local authorities and construction companies. The directors take a personal interest in all projects and endeavour to ensure clients are satisfied with progress and quality.
Location & Hours