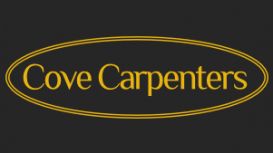 Cove Carpenters is the trading name of Michael Tricker, a carpenter and mechanical engineer who has been working with wood and machinery for longer than he cares to remember! Mike is dedicated to offering a personal service for all carpentry needs, but has a special interest in combining traditional carpentry with modern engineering techniques working with internal doors.
With many years experience working with wood, we are also mechanical engineers, so we have a unique combination of skills to be able to offer a complete service for your internal doors - supplying, machining, fitting, finishing and painting your chosen doors on your property. Our engineering experience in production and tooling techniques means that your doors can be machined quicker and with greatly reduced handling than traditional fitting. We are therefore able to work to a very high standard without creating the physical disruption, noise and paint fumes normally associated with the installation of new doors.
---
Reviews and Ratings
Mike has just finished installing 14 oak panel doors for us, four of the door openings were non standard so they had to be adapted to fit, Mike did a superb job of reducing these doors and finishing them with matching hardwood edgings to perfection. The work was finished on time and Mike arrived on time each day he carried out all the work with the minimum of disturbance along with a very pleasant demeanour. We would rate him as a top professional and have absolutely no hesitation in recommending him.
Mike fitted 4 internal doors and replaced the surrounds. His cheery approach made having him work in the house hassle free and as others have written, he always ensured he stuck to his schedule and left the house tidy. He has been available for a small bit of advice re the doors and has already offered to come and make a slight alteration as part of the service he provides. I'll be using him again for more doors and a bannister, which is probably the best kind of recommendation I could give.
Very happy to recommend Mike who is very friendly and professional and courteous. He came over to advise us about the best way to solve issues with our doorways and spoke in plain English and was clear and transparent on price options. During the project he went out of his way to keep the house clean which was important to us due to us having a newborn baby in the house and its very clear he takes a lot of pride in his work. Very pleased and would use again definitely!